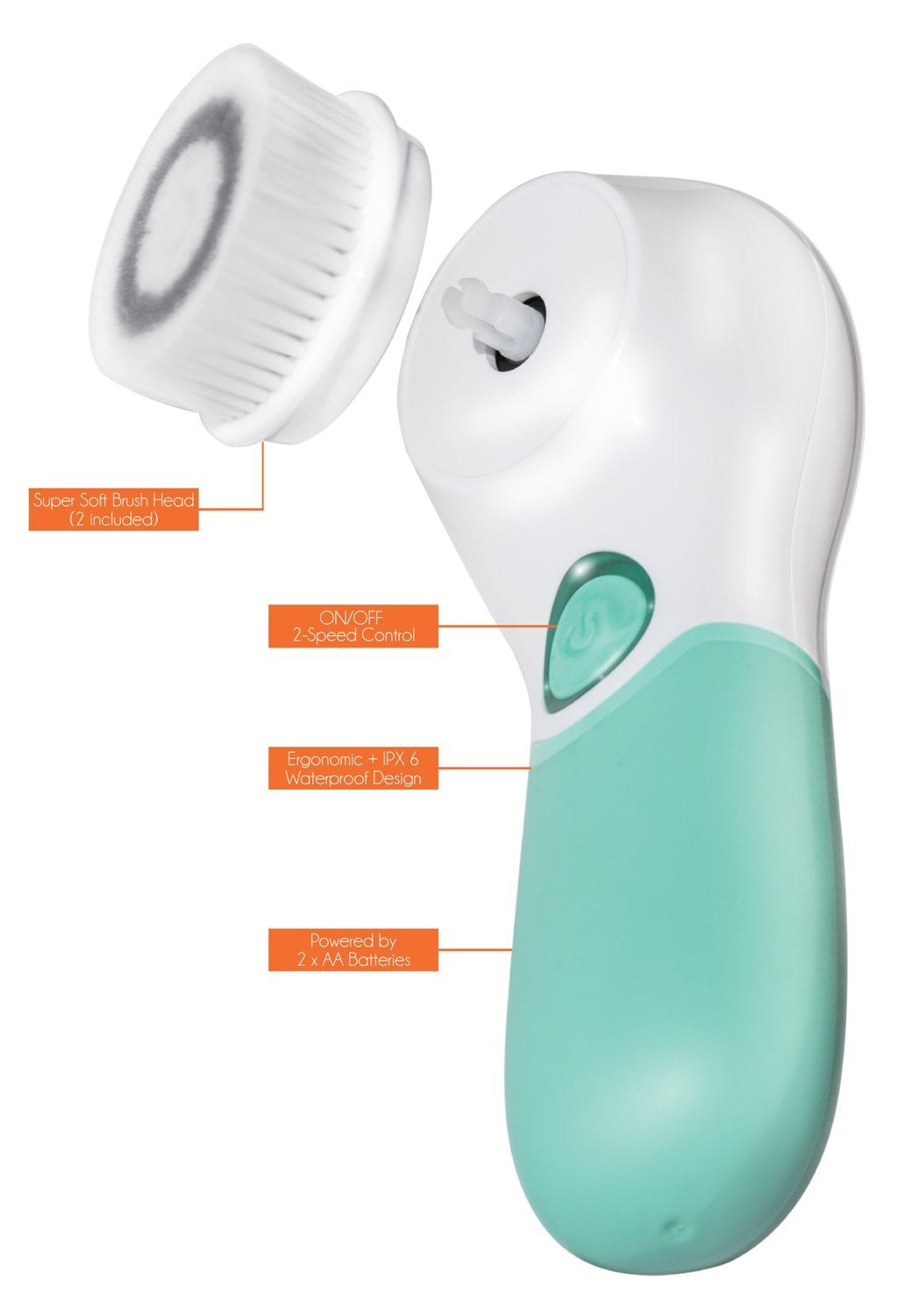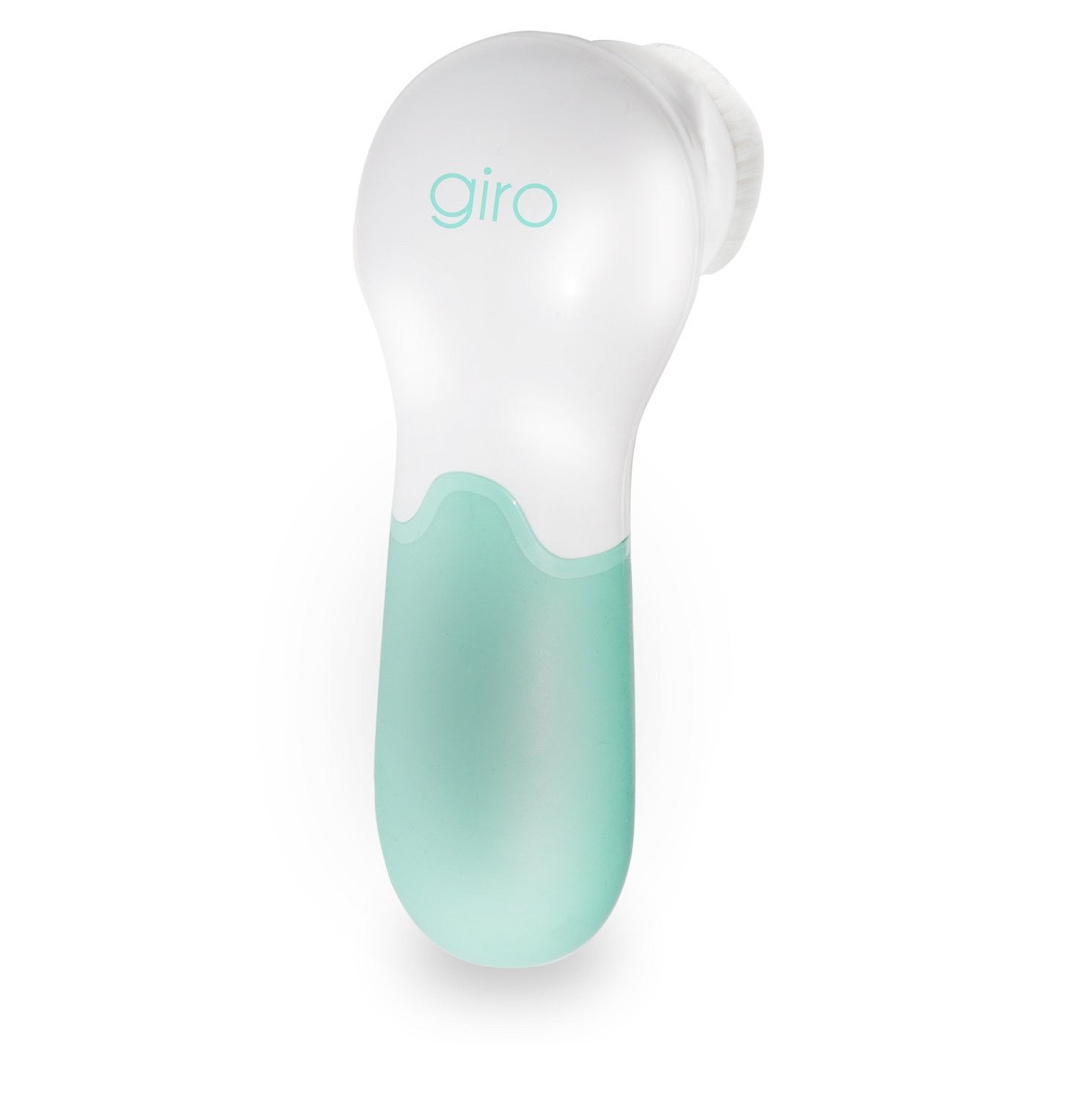 LAVO Giro Facial Cleansing Brush
Soothe Raging Ingrown Hairs
$25
Recommended For: Men, women, and teens. All Skin Types

100% No-Risk Money Back Guarantee

Free shipping for orders over $15

Quality Guarantee
"I can't believe that I ever washed my face with my hands!
I am never going back now."
—Ryan & Cristina

Why Use Giro Facial Cleansing Brush?
Banish blackheads, budding blemishes, and stubborn dirt that's stuck deep inside your delicate, hardworking pores.

The LAVO Giro Facial Cleansing Brush works to keep your skin looking and feeling its best at every level, smoothing out rough, dry, and bumpy patches on the outside of your skin while it clears out weeks' worth of ancient dirt, dried sweat, and grease to create some much needed breathing room for the lower layers of your epidermis.

The ultra-soft bristles spin at two different speeds, including a quick, efficient whirl that gives your face a complete, velvety-smooth cleansing even when you don't have any extra time to spend on your skin and a slower pace that gives an even deeper level of care and attention to each level and area of your complexion, and they're built to clean your skin, not scratch, scrape, or irritate your sensitive face and neck.

With its adaptable, waterproof design, you'll even be able to use this brush in the shower, allowing you to deep clean your pores with the help of your bathroom's steamy, pore-opening atmosphere and a quick, easy rinse from the showerhead.

The rubberized silicone handle will help you keep a secure grip on your LAVO Giro Facial Cleansing Brush while you're washing your face in the shower, rushing through your morning beauty rituals, or working to calm down a small, targeted area filled with flaking skin, fine, stubborn lines, or persistent pimples.

This face cleansing brush also provides the perfect beauty solution for world travelers, students abroad, and business people who end up trying to fit their beauty routines into cramped hotel rooms and airport lounges. It's smaller than many of the last-minute clothing choices, accessories, and presents for the family that you'll be trying to fit into your luggage, so you'll love how easily it slips between the extra socks in your suitcase or fits into the side pocket of your carry-on.

Also, the brush's body is made with sturdy ABS plastic, which helps it shrug off the warping, debilitating effects of excessive heat, sudden drops on hard, unforgiving floors covered in cold tiles or concrete, and the bone-rattling, screw-loosening turbulence of a hectic taxi ride or a flight through bumpy weather.

What's Included?
1 x Main Machine
1 x Soft Brush
1 x Firm Brush
1 x Brush Stand
(Requires 2 AA batteries - not included)
What to Expect
Scrubs out Dirt, Makeup, Oil, Dead Skin, and Bacteria from your pores

Helps Unclogs Pores and Removes Blackheads / Whiteheads


Cleans out Hard to Clean Areas like the sides of your nose and T-Zone

Exfoliates Dry Flaky Skin 6x faster than with bare hands

Polishes, Brightens, and Stimulates Collagen Production

Soft bristles won't abrade or irritate delicate skin
Features and Benefits
ENJOY THE BEST FACIAL CLEANSING EXPERIENCE

The LAVO Giro includes 2 different brushes, a soft brush for everyday cleansing, a firm brush for deeper exfoliation, and a BONUS drying stand. This system is a must have for all skin types, you can deep clean your pores, exfoliate dead skin cells, and gently massage your face. 2AA batteries are required to operate the machine (not included).

WATER RESISTANT

Use the brush while you shower. Do not worry about water leaking inside as all gaps have been sealed with high quality seals. As long as you do not leave it submerged underwater for a long time, you'll be fine. Use with any cleanser or exfoliating cream like our Microdermabrasion Cream. The rubberized handle gives you a firm grip so the machine does not slip while wet.

CHANGE SPEED WITH THE PUSH OF A BUTTON

. Get the best performance without overexfoliating your skin. The slow speed feels amazing as it will gently massage your skin while scrubbing away dead skin. You will absolutely see and feel a noticeable difference after using it for the 1st time. The high speed which is twice as fast gives you a much deeper exfoliation in no time. Let the brush do all the work and gently glide it around your face.

HIGH QUALITY SOFT BRUSH HEADS

. Our brushes are made with premium quality super soft luxury DuPont brush fibers. At .05mm in thickness (thinner than hair) the brush fibers will dig into your pores and lift out dirt, oil, and bacteria. The firm brush is the same thickness but a little shorter than the soft brush to give it more rigidity and exfoliating capability. Don't gamble your delicate skin with lower quality brushes from other brands. We guarantee our brush is safe for your skin. If you need additional brush heads we have replacements available.
Why LAVO Skin?
We use premium quality ingredients from around world. Our products are made in small batches so freshness is always guaranteed. We've served 1,000's of happy customers who come back again and again but if you you're unhappy with anything we'll give you 100% of your money back.
It works well and has held up to 3 months of 3xweekly use.. I got it with the stand so it could dry up without touching the counter. It is in a nice colour as well. Would recommend.

I used to wash off my make up with a cleansing scrub and thought it was clean. After using the cleansing brush I can see signs of makeup still on the brush. My face definitely feels cleaner after using.

It works great on sensitive skin.... my dark spots did fade... my skin looks good....

I absolutely love mine! It's got a great strong brush, but not too abrasive. Definitely gets the job done! I love it.

A gift for my 14 year old. She is obsessed. Says you've never cleaned your face until you've used this. Says her face is the softest it has ever been after using.

This spin brush works great and is easy to use. My son has submerged it in water several times and it still works great.

Great all around face scrubber has a solid feel when in and let's see how it holds up

Replaced my broken brush with this one. So far so good. I have sensitive skin and it doesn't seem to irritate it. It has two speed settings. It's nice to start with the slower setting so you get used to it. It would be nice if there were some type of stand for it. I just toss it in my shower caddy

Why is Clarisonic hundreds of dollars when this does the exact same thing? Brush rotation is so powerful and effective. extremely impressed/satisfied

1. Attach brush head by firmly connecting into the socket (a nice firm push)
2. Moisten with water and apply cleanser or scrub directly onto brush
3. Press once for low speed, twice for high speed, and 3x to turn off
4. When finished, thoroughly clean with antibacterial soap
5. Keep in a dry well ventilated area
6. To detach, firmly pull it out of the socket
Love it! I have only used the soft brush so far. Definitely has helped my skin overall. Less noticeable blackheads and really gets the skin clean. Love to use in the shower.

ORDER NOW!
LAVO Giro Facial Cleansing Brush
100% NO-RISK MONEY BACK GUARANTEE
CUSTOMER REVIEWS FROM AMAZON
Love it! I have only used the soft brush so far. Definitely has helped my skin overall. Less noticeable blackheads and really gets the skin clean. Love to use in the shower.

I can't believe that I ever washed my face with my hands! I am never going back now. This feels so much cleaner. My only complaint is that I wish they would have more speeds built in but that's a very minor thing. I'm dying with this cleaner - no one is taking it from me I will be buried with it.

This works great! I use it every day and I love it.

It has two speeds. The fast speed isn't the fastest. But it works, and I get a deeper clean rather than using my hands to clean my face. I do suggest putting facial cleaner on your face and not directly on the brush. Product will sit at the bottom of the brush and getting it out is almost impossible.

I absolutely love this brush! It's bristles are just perfectly tectured to remove dirt but not harsh on the skin. Luxurious brush at an afoordable price.

Have used this cleansing brush for over a month now... love the way my skin feels after using it! Great product that does the job! Would recommend

This Lavo brush is a great tool for sure! Easy to operate, and the smoothness feel of the bristles is very nice. Our pre-teen granddaughter really loves this, and it has made a very positive difference for her skin at this most sensitive time of her life! Can't go wrong with this tool, thank you Lavo!

I had the clarisonic for about 6 years, after which it bricked (I think the battery stopped charging). There was no way to fix the Clarisonic since it's completely solid state. The Lavo at a tenth of the price, has the upside of not needing to be charged--and seems to be functionally pretty much the same. I use the Clarisonic holder to help dry out the Lavo brush during the day--and to avoid water from getting into the battery compartment. All good so far--but I've only had the Lavo for less than a month. Will repost if it conks out.

Read

More Reviews

About the LAVO Clarifying Facial Cleansing on

Amazon.com
LOVE THIS? THEN YOU MIGHT ENJOY:
Join the LAVO Club for discount codes and more!
For all general inquiries, please contact us at support@lavoskin.com