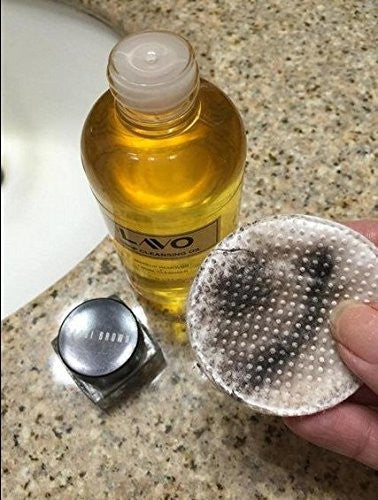 Facial Cleansing Oil
An Organic Makeup Remover
$19
Recommended For: Men, women, and teens. For all skin types. Excellent for Oily and Acne prone skin types

100% No-Risk Money Back Guarantee

Free shipping for orders over $15

Quality Guarantee
" Gentle and removes all eye makeup easily!
Would purchase again."
— D. Frith

Why Use the Facial Cleansing Oil?
REMOVES ALL MAKEUP
Melts away any makeup including eye makeup, waterproof mascara,foundation, BB cream, powder, lipstick, heavy stage make up, and even especially hard to remove sunscreen! This means you won't need to purchase any other product just to remove something stubborn.

COMPLETELY DISSOLVES
Emulsifying oil turns milky white in color and completely dissolves when it comes in contact with water. Goes from an oil state to basically water which means you'll be able to rinse it off with ZERO oily residue leftover on your skin. Apply and Rinse. That's it!

FIGHT OIL WITH OIL
if you have an oily skin type or using an oil based makeup, this cleanser is perfect for you. The cleansing oil will stick to sebum, contaminants, and makeup like a magnet and dissolve it away when you rinse it off with water.

USE AS STANDALONE CLEANSER
Not wearing makeup? Use as a regular facial cleanser. It's perfectly effective as it is already clearing your skin of makeup, excess sebum, and pollutants. It will even gently exfoliate your skin leaving it soft and smooth.

ORGANIC INGREDIENTS
Organic ingredients give you peace of mind so that you know that the product is safe and good for your skin. If you're pregnant, have sensitivity to low quality ingredients, or just want to watch what goes on your body, then you'll be happy with the LAVO Facial Cleansing Oil.
Ingredient Spotlight
Safflower Seed Oil

- Pressed from safflower seeds this oil is rich in vitamin E and contains Omega-6 fatty acids. Contains potent anti-oxidants to help reverse damage done by free radicals including rough skin, age spots, and skin irritations.

Chamomile Oil

- While this oil is universally known for its soothing, calming, and healing powers, did you know that it is also good for things like acne, eczema, skin scarring, and rashes? If you struggle with these skin conditions, chamomile oil will be a good friend.

Avocado Oil

- Also rich in Vitamin E and potassium, avocado oil helps moisturize and heals your skin. It promotes collagen production, which helps new skin growth and accelerates the healing process (anti-aging benefit). If you have dry itchy skin which is a common sign of eczema and psoriasis, the vitamins and anti-oxidants can help alleviate those by moisturizing and stimulating new skin to grow.
Why LAVO Skin?
We use premium quality ingredients from around world. Our products are made in small batches so freshness is always guaranteed. We've served 1,000's of happy customers who come back again and again but if you you're unhappy with anything we'll give you 100% of your money back.
1. Pour onto hands or cotton pad and massage directly onto skin (dry skin)
2. Makeup will dissolve immediately
3. Once most of the makeup has been removed, rinse and massage with water
4. Repeat Steps 1-3 again to remove heavy makeup
5. Rinse with water. Makeup and oil will completely dissolve leaving no oily residue. It's magic!
6. You may optionally use a cleanser afterward. Then make sure to tone and moisturize
3 Step Daily Skincare Routine
Step 1: CLEANSE
Use the LAVO Clarifying Facial Cleanser to remove all contaminants, dead skin, and excess oils. The natural AHA's and BHA's will gently exfoliate our skin leaving your skin clean, clear, and smooth.

For sensitive skin types, you may use our Gentle Daily Facial Cleanser which is an excellent lightweight non-drying (alcohol free) cleanser.

Step 2: TONE
Use the LAVO Glycolic Acid Toner (10% Glycolic Acid) or the LAVO Ginseng Glycolic Acid Toner (5% Glycolic) to remove any remaining cleanser that hasn't been removed from your skin. This will also neutralize your skin's acidity level which will make it less hospitable for bacterial growth.

Step 3: MOISTURIZE
The last step is to moisturize with the LAVO Daily Moisturizer Cream. This helps hydrate and form a barrier on the surface of your skin so that bacteria and contaminants won't penetrate into your pores and cause inflammation, acne, and other unwanted "polluting" of the skin

Follow These Steps 2x a Day For Best Results
And Proper Skin Care Maintenance

ORDER NOW!
Facial Cleansing Oil
100% NO-RISK MONEY BACK GUARANTEE
CUSTOMER REVIEWS FROM AMAZON
Read

More Reviews

About the LAVO Clarifying Facial Cleansing on

Amazon.com
LOVE THIS? THEN YOU MIGHT ENJOY:
Join the LAVO Club for discount codes and more!
For all general inquiries, please contact us at support@lavoskin.com